self awareness and group dynamics in social change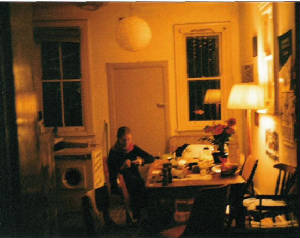 Nikki in our kitchen
Living in a share house can be great under the right circumstances: when you consciously create community.
We have a pretty strong community surrounding our place... we are collectively buying food and cooking for each other, with dinners now and then...and a ladies knitting circle every second Saturday at 3pm. It is currently in dispute whether or not it remains an autonomous ladies knitting circle.

Living in this era, the BUSYNESS and craziness of our lifestyles limits our capacity to meet up with like minded people.
Many people exist on treadmills, controlled by the constant demands on our time and our thoughtspace.
We operate in a tunnel of HOME-CAR-WORK-CAR-HOME, living in fear, not engaging with others, and reinforcing the isolation of each family unit. Living in Sydney for my whole life, I've rarely ever even talked to neighbours- there has been a culture of reclusiveness where people retreat behind their tall front fences.
I find that the only place I can develop relationships with people with any depth is at home. Thus, i think it's a natural organising space. I feel really lucky to live in a share house with three like-minded people.
WHAT IF we consolidated our local networks and developed more formalised support for grassroots action in local areas?
Community building calls for a different kind of heroism to that deified by both educational and economic elites.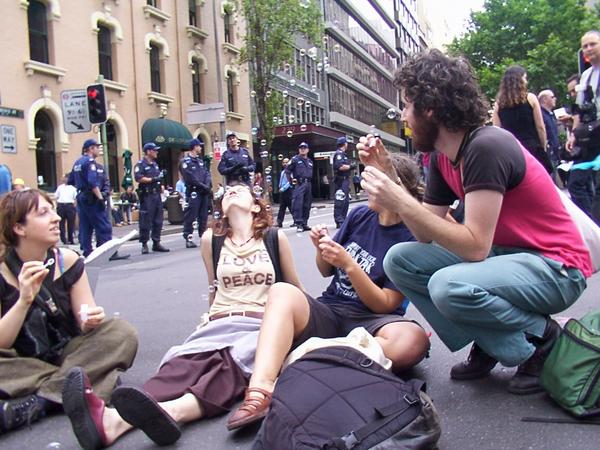 Nicole, Rachel, Inge and Alex at the WTO protests (by Moz)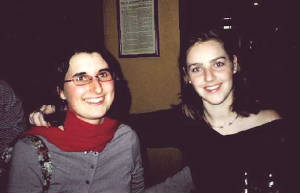 .
I just did a big search on intentional communities. ABC Radio National has a links page, 2, 3, (associated with an inspiring interview) that ended up being the locus of my discoveries. Some highlights include some Victorian communities: a network site, Not Melrose, an urban community and Moora Moora, a rural community; Graham Meltzer's Cohousing site; a Travel journal, Economads for people visiting communities around the world. (From there I found a site about an activist orchestra that plays at airports when refugees are to be deported etc)
Lastly, Community gardens(New York site) are very inspiring in bringing the locals of an area together. Here is a permaculture site from Nimbin, Northern NSW.