I am here in
Gadigal country
in the Eora Nation.
here is the beginnings of a blog...
here is a speech about economic democracy that I gave at the Students of Sustainability conference in 2005.
Some random short film clips (less than one minute) from my travels
Here are some photos from the Geography field school in South East Asia, that I went on in January 2005.
Current Favourite Link:
Appiko is a great online film about the Indian tree hugging movement, made by the Rainforest Information Centre, Lismore. In the tradition of Gandhi and the Chipko movement, they used direct action to save the forests of the Western Ghats.
Some email lists I recommend:


Global Trade Watch Bulletin: go to the website and sign up!
Inter-Press Service Newswire: This is an excellent source of news, particularly on indigneous, middle eastern and economic justice issues.
Global Issues that affect everyone-sign up for email updates
COA News is a great compilation of video-based independent media. You can sign up for their weekly short video news segments.
Grist Environmental News Service: a popular US-based environmental news and gossip.
Friends of the Earth: updates on environmental justice campaigns.
Aidwatch: the most rigorous and grassroots NGO in Sydney.
PR Watch: subscribe here to get The Weekly Spin- an extensively researched bulletin on the machiavellian PR strategies of major corporations
The Anarchist Age: a Melbourne-based publication, that's interesting, aiming to reignite interest in Australia's radical history, especially the Eureka Stokade. To subscribe, ask by emailing anarchistage@yahoo.com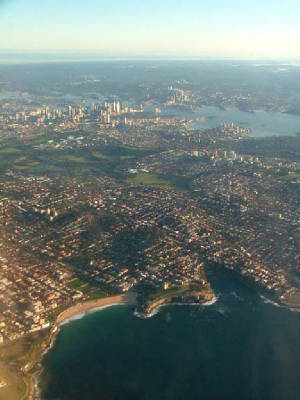 Sydney and Coogee Beach (taken from a plane i was on)